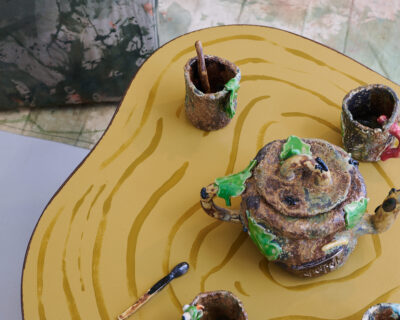 HUMUS
BY SUPERPOLY
16 SEPTEMBER – 16 OCTOMER 2021
Etage Projects is pleased to present HUMUS, Superpoly's second solo show with the gallery. Having seen too much of the Mediterranean sea lately, the French design duo decided to hike away and venture into the deep forest to set up a camp. As a result, they have taken over the gallery space and created a small size forest inside a nomadic living room.
In HUMUS, Superpoly turns to a representation of nature that is playful and naive but at the same time critical towards how human intervention with nature pollutes the environment. Here, the objects are blurred between natural and artificial elements. Constructed in plywood and acrylic varnish, the Superwood Trunks naively resemble wooden trunks and the ceramic vases have been neatly covered in ceramic wire and wicker. On the Tea Pot and Tea Cups, worms and small insects are working to decompose trash that has been left in the forest. The labour of nature, so to speak, becomes the beauty and decorative elements of their new series of works.
HUMUS is the word for the organic component of soil—formed by the decomposition of leafs and other plant material—that allows dead material to be re-used for new purposes. Turning to nature as the central element in the creation of their exhibition, Superpoly explores their own need to reconnect with a wilderness that is both ubiquitous and fragile. Whereas their previous exhibition POSTCARDS FROM SUPERPOLY was exploring ancient ceramic techniques—and later bad touristic ceramic aesthetics— HUMUS intends to be more responsible; developing objects from already collected objects, using repurposed fabrics and local products as well as collaborating with traditional crafts. With HUMUS Superpoly turns into Ecopoly.