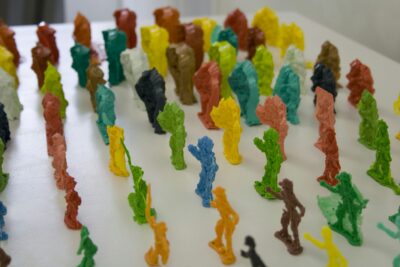 XYZ…
Paul Elliman
Gemma Holt
Sam Jacob
Michael Marriott
Study O Portable
Peter Marigold
Curated by Workshop for Potential Design
The idea for this exhibition comes from our visit to a Victorian-era apartment in Copenhagen, Klunkehjemmet, where most of the interior surfaces are either covered or painted to look like something else. Until you get close to enough, you won't see that what you thought was a wood carving is in fact a plasterwork painted to look like wood. In the apartment, the surface treatment work as a device to stretch the space between when we look at something and when we see what it is, giving us a chance to speculate/mistake/interpret the object. There is an intriguing possibility in knowing something could be something else until you know it is; there is always a chance that things we thought we knew could actually be something else.
This space between looking and seeing is the theme given to the participants of this group exhibition. Each work touches on different notions of the theme and suggests various possibilities of the interpretational function of viewing.
Besides being an exhibition on its own right, ZYX… is also a catalyst for another exhibition in London which starts a week later, titled …ABC, where the work in ZYX… are reviewed by 6 participants through various media from text, photography to illustration and a filing cabinet.
Workshop For Potential Design is a platform for research and collaborative design practice based in London.