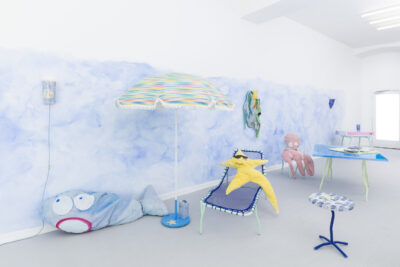 POSTCARD FROM SUPERPOLY
BY SUPERPOLY
7 JUNE – 8 AUGUST 2018 
"The new wave of artists creates in freedom, opposes all conformism, applies the great principles of modernism where expressionist forms and Mediterranean sensitivity mingle."
While creating this warm and homely interior, Superpoly was deeply influenced by a culture of crafting around the Mediterranean, which some may call holiday memories, with their naive subjects and their relationship to the sun. 'Postcard' exhibition is a series of boxes filled with these influences tinged with sunshine.
They drew inspiration from flea markets; looking for shapes and obsolete designs that have been left behind. Subsequently they appropriate objects, shapes and myths to create timeless objects out of the context of modern industry. Eventually they confront these forms with more upright constructions, reminiscent of the modern constructions that were built on the coast after the war such as the Eileen Grey House.
Colour is the central element of Superpoly's work and Antoine's distinctive manner of painting brings all their elements and materials into a coherent whole.
For this exhibition, Superpoly crafted all the material in their workshop together. Metal and painted wood, ceramics and tinted textiles have all been built by their four hands. For each object they craft, they define a working process but both Thomas and Antoine being present at each step of production yields unique, one-of-a-kind pieces.
In their ceramic works, the duo is influenced by the ceramics of Vallauris, forged after the golden age of touristic economy, which are currently sold in the flea markets of Southern France as orphan souvenirs from past holidays. Their ceramic work pays tribute to the kitsch but also takes inspiration from contemporary visual art to develop their imagination. However, they do not want to create an acute nostalgia for this time, but rather reclaim its energy instead. They channel the philosophy and sensitivity of many artists who have evolved under the same sun in the Côte d'Azur.
Superpoly is a duet formed by Antoine Grulier and Thomas Defour, based in Hyeres in the French Riviera. Their practice has developed around interior architecture, graphics and decoration since 2015 and it is the fusion of two methods, plastic and applied, around sun-tinted influences. For each of their projects they seek to develop an immersive and unique space through a plastic intervention. Their projects consist of dialogues between a contemporary artistic practice and the construction of the living space.