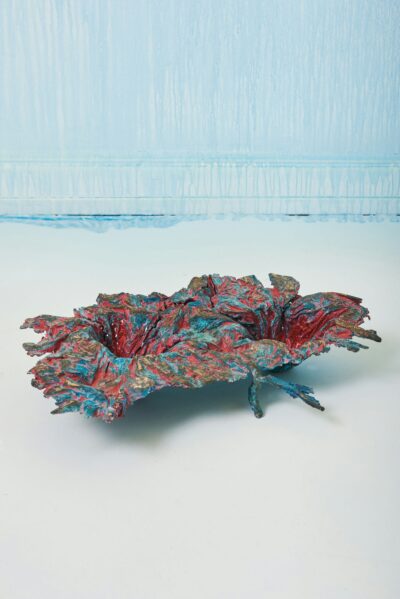 In the pursuit of happiness and waking from an extended period of falling in and out of a depressive state, Victor Miklos Andersen explores the reasons why he started making in the first place, pulling together his fascination with colour, form and tradition. Revisiting the past, he finds the relics on which the Danish design tradition was founded, over the industrial themes and introduces the present anthropomorphic and diverse state.
The exhibition features a genesis scenario in the centre. Bearing the effect of numerous revisits to the classic Danish chair designs, the Bronze Chair appears as a mythological relic, paired with the Aluminium Table furthering the designer's study of metal and hovered by the Rubber Cloud Chandelier, representing the obscured depressive period in his practice.
The Wallflower sconces are a stopover on the Futura Danica series by the designer, featuring the amorph aluminium and bright powder lacquering as an anthropocentric exposition of the representation of nature in design. Reeling his experimental and conceptual approach, the designer continues the natural abstract elements with the Sea Wall Sofa and Tectonic Plate Sofa Table, populated around by the "Urban Bodies" Vases.
Morning Glory is a statement about the warmth and energetic state of mind we all need in the current chaotic news stream. The show runs through January 28 at Etage Projects on Borgergade 15E, Copenhagen.