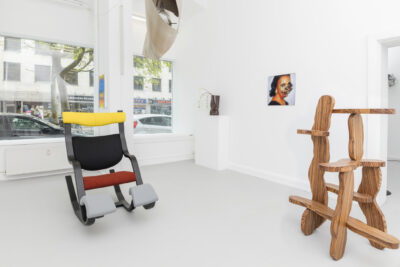 MIND GRAVITY™
A PROJECT BY ILL-STUDIO
FEATURING WORKS BY
SOFT BAROQUE
FRANK DORREY
THIBAUT GREVET
TOM HANCOCKS
TIME IS AWAY
JULIAN KLINCEWICZ
JASMINE MONSEGUE
IBBY NJOYA
CHRISTELLE OYIRI
PETER OPSVIK
GUILLERMO SANTOMA
ABOUT THE EXHIBITION
On the occasion of the launch of Mind GravityTM, Ill-Studio presents a multimodal installation and a collective exhibition.
We can only live by perception, and we are all creating our own experiences, our illusions, and our realities. Mind GravityTM touches upon the visions of individual perspectives and personal viewpoints. The line between fantasy and reality is subjective as we process, interpret, detect external information differently. Distorted shapes, imagery, memory recollections etc. play a key role in the exhibition, comprising a variety of receptors, stages of differentiations and place makers for the individual idea of the real.
ABOUT THE COLLABORATION
Varier invited Paris-based creative practice Ill-Studio to rework Peter Opsvik's iconic GravityTM chair and present it in a new context. Through the visual language of new materials, colors and textures, Ill-Studio's take on GravityTM extends beyond the realm of sitting, blurring the lines between emotional engineering and ergonomic fantasy. Ill-Studio envisioned the GravityTM chair as a functional sculpture that affects its users in far more ways than the mere fulfilment of physical needs. Through its positions from tasking to full zero gravity, Mind GravityTM integrates different senses into one unified perceptual experience.