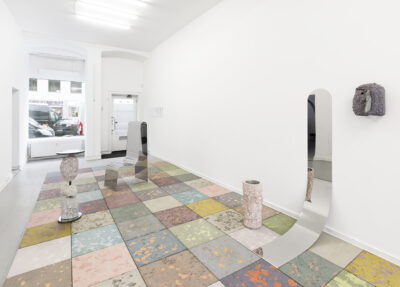 HOME
PETTERSON & HEIN
3 FEBRUARY – 1 APRIL 2017
"WE SHAPE OUR FURNITURE, AND AFTERWARDS THE FURNITURE SHAPES US"
WHAT HAPPENS WHEN ONE'S HOME IS NO LONGER COMPRISED BY FUNCTION, BUT LONGS FOR THE AESTHETIC AND ETHICAL FREEDOM OF ART? HOME BY PETTERSEN & HEIN IS AN EXHIBIT THAT DELVES IN THE SPHERE OF WHAT A HOME IS. WHAT VALUES ARE AT PLAY? HOW IS THE HIERARCHY BETWEEN FUNCTIONALITY AND NON-FUNCTIONALITY? HOW DO WE USE THE OBJECTS WE SURROUND OURSELVES WITH EVERYDAY?
HOME IS A SUGGESTION VIEWED FROM A SCULPTURAL PERSPECTIVE. WHAT HAPPENS TO A HOME WHEN IT IS NOT BUILD FROM A FUNCTIONAL VIEW, BUT SOLELY FROM A SCULPTURAL BELIEF?
BASED ON THE CONCRETE FLOOR, PETTERSEN & HEIN USES MIRROR POLISHED OBJECTS TO ENHANCE THE FEELING THE FLOOR GIVES YOU, WHEN BEING IN CONTACT WITH IT; EITHER BY LOOKING AT IT OR BY WALKING ON IT. IT BECOMES PSYCHEDELIC, THE FLOOR BECOMES ALIVE AND THE SURROUNDING FURNITURE BECOMES LIKE PEOPLE IN YOUR HOME A PART OF IT, AND ALMOST ANIMATED. IN THIS HOME THE FURNITURE REPRESENTS WHO YOU ARE BOTH PHYSICALLY AND MENTALLY.
HOME PAYS HOMAGE TO MATERIAL, COLOUR AND FORM RATHER THAN FUNCTIONAL USE. IN A WAY IT BECOMES WORDLESS POETRY LEAVING THE INTERPRETATION TO THE INDIVIDUAL VIEWER. AN ARCHITECTURAL MATERIAL YOU CAN USE IN A WIDE SPECTRUM OF INTERIORS.
LEA HEIN AND MAGNUS PETTERSEN ARE THE ARTISTIC DUO THAT TRANSFORMS EVERYDAY LIFE MATERIALS INTO SCULPTURES. MAGNUS PETTERSEN IS AN ARTIST AND A GRADUATE FROM ROYAL DANISH ACADEMY OF FINE ARTS IN COPENHAGEN AND LEA HEIN IS A FURNITURE MAKER AND FURNITURE DESIGNER AND GRADUATE FROM HDK SCHOOL OF DESIGN AND CRAFT AT STENEBY. THEIR DIFFERENT BACKGROUNDS HOWEVER DID NOT STOP THEM FROM COLLABORATING FOR AS THEY'VE SAID, "WHEN BOUNDARIES BETWEEN DESIGN AND ART ARE EFFACED, POTENTIAL FOR MAGIC OCCURS".
WE WELCOME YOU HOME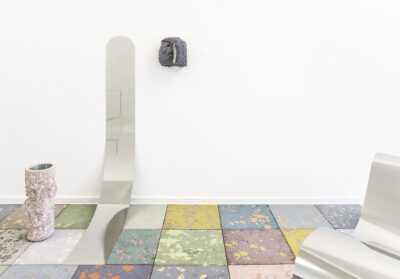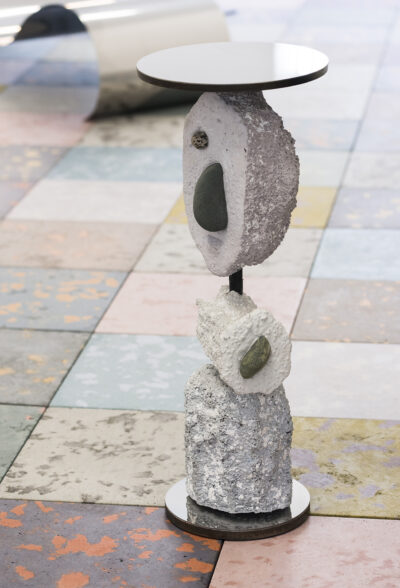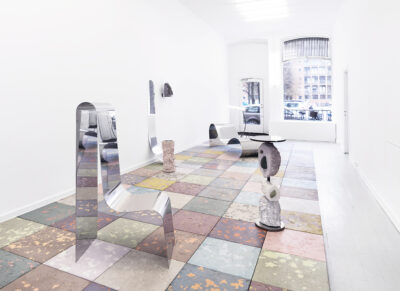 Press