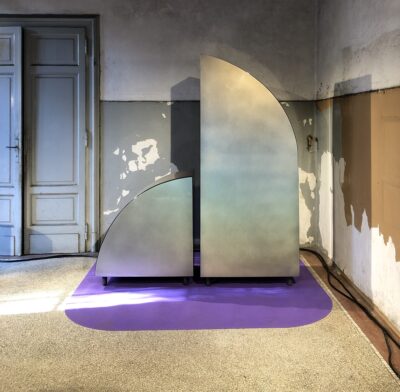 FUTURE ARCHAEOLOGY AT ALCOVA
BY OBJECTS OF COMMON INTEREST
SALONE DEL MOBILE, MILANO
5 – 10 SEPTEMBER 2022
At ALCOVA, Objects of Common Interest suggests a futuristic domestic landscape set up within the frozen-in-time space of the nunnery utility rooms, a spatial investigation at the intersection of history, coexistence practices, and contemporary habitation.
Holographic Domesticity
A series of objects of pure shapes and spatial gestures: bent, arch, curve, stack or juxtapose, form utilitarian domestic pieces (a chair, a table a stool an armchair and cabinet sets) of an illusionistic materiality with a holographic surface treatment leading to a playful perception of color.
Atmosphere
Standing transparent figures hold lights within their body, bare minimum elements combined in a volumetric object.
Metamorphic Rock
A solid rock formation sitting upon a tray on casters as an elemental gesture for creating a resting element. The rock is a familiar yet surprising material mass, semitransparent, solid and soft in touch, producing a unique sensible feel.