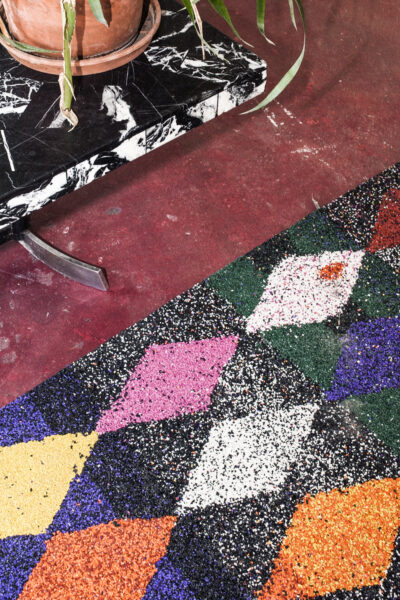 CIAO AMICO MIO
BY KUENG CAPUTO
24 AUGUST – 6 OCTOBER 2018
Etage Projects is pleased to announce the opening of the new solo exhibition by Kueng Caputo: Ciao Amico Mio. Uniting recent series of works by the Swiss designer duo, this exhibition presents The Silo Furniture, Homage Carpets and Granulate Lamps, showcasing how material and form creates a harmonious narrative.
The Silo Furniture was designed for the bar / restaurant Silosilo in Zurich, located in an impressive concrete architecture, initially built as a silo for grain. To contrast this raw, linear space Kueng Caputo developed wooden furniture in free organic shapes and has chosen a warm material.
The Homage Carpets project started out of the fascination for the work of different weavers in the Atlas Mountains in Morocco. Deeply impressed by their designs Kueng Caputo decided they had to study it.  Their Homage Carpets are a translation of their original work into to a whole new version of carpets, in terms of material and design. They are made out of EPDM granulate, that is usually used for outside sport flooring.
The Granulate Lamps series are in the same vein as the carpets: Particles come together to become something new. The artists melt PS-particles in different colours to a sheet and bend it. The sheet is lit up by the neon tube, according a colourful light play. The contrast of the standard mundane neon tube and the handmade intricate sheet is the main objective, highlighting the close proximity of the daily normal and art.
Kueng Caputo consists of Sarah Kueng (1981) and Lovis Caputo (1982), whose practises have been united since they were both students of design at the HGKZ Zurich from 2004 to 2008. Their studio is based in Zürich, Switzerland.
Kueng Caputo's material adventures are often rooted in the complexities of crafts techniques, which are reconfigured to explore new dynamics between the minimal, the exuberant and the unexpected.