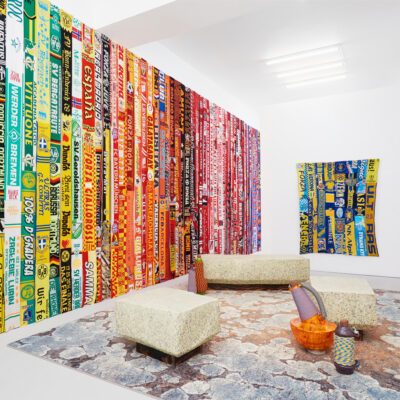 CAMO
BY KARL MONIES
10 JUNE – 19 AUGUST 2021
Etage Projects is pleased to present CAMO, Karl Monies' second solo show with the gallery. Presented across a range of mediums, the exhibition presents a constellation of possible manifestations surrounding the concept of camouflage. Traditionally, camouflage has most commonly been associated with either military applications or natural history. However, the adaptive term has gained a rich set of meanings over time, not only in reference to nature's transformative ability to blend into its physical surroundings, but further engaging camouflage as a phenomenological tool to perform social belonging. Emerging out of an interest in the connections between ecology, visual deception and social codes, CAMO explores the many dimensions of camouflage as the art and practice of concealment.
Playing with honesty and deception, carpets that simulate the floors of the forest are laid out on the floors of the gallery. An enlarged photo of white mushrooms growing on a blue stone bears a camouflage aesthetic as the subject, itself, mimics nature.
Moving further into the investigation of honest and dishonest materials, five sculptural benches enthrone the moss-look-alike underlay. While the patterns and colors simulate the codes of camouflage, its camouflage function is somewhat inverted as the fabric — usually covering the inside filler — has been removed, leaving the padding exposed. Immersed in rubber dip, the benches glow in the dark — which, upon first impression, seem to be anything but an exercise in concealment. However, their glowing state imposes a unique dimension of camouflage — leaving them to be perceived as luminescent sculptures rather than functional objects.
In a contrary approach to exposing materiality, the set of ceramic containers, first time exhibited in Monies' previous show ARCANA, reappear in this exhibition under new pretenses. This time, they have been shrouded and wrapped in the artist's iconic multi-colored climbing rope, rendering each into a kind of anonymous soldier, silently observing.
Covering the walls of the gallery space, 'Holygangs' is made of numerous football scarves collected from around the world over the past 10 years. Stemming from the word 'hooligan', 'Holygangs' is an exploration of the secular religion that exists in football-fan culture. Similar to religion, the culture is holy for those within, and somewhat of a mystery to those outside. While the scarves are hung individually on the wall, their individuality disappears in the massive crowd of colors, symbols and logos: when putting on a scarf, their identity is automatically disguised into the semi-sacred culture of football.
In nature, organisms and animals use camouflage to mask their location, identity, and movement. In society, we use camouflage to blend into a certain culture, constantly balancing between hiding and revealing our identity. The phenomena of camouflage have a potentially unlimited amount of charged connotations — from warfare history to fashion statements — but in CAMO, it is the experimentation with visual deception — naturally, socially and creatively — that is paramount.