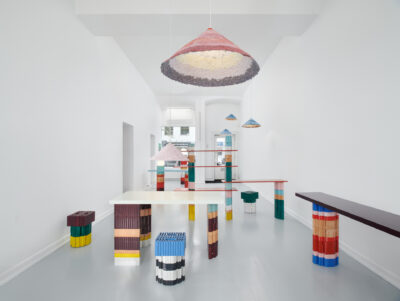 The Brick Collection started with the fascination of the unpretentious terracotta soil – An archaic building material, which perhaps has the longest tradition in human history. All around the world soil is used to build, but the soil of each culture will vary and carry its own uniqueness.
Standardizing the brick is an idea society developed profoundly in the last decade.
WIth Bricks, Kueng Caputo combines "the standardized perfection" with the "unpredictability" of the human hand. The resulting collection Bricks, captures the tension of an industrial process, disrupted by traditional craft and transforming the standard building materials into crafted architecture.
They use the standard bricks of Switzerland, called Swissmodul , and the standard reinforcement fabric, Rubber granulate and liquid wallpaper. By adding steps, they have created, by hand, elaborate and unique objects. The bricks have been further elevated by the application of ceramic glazes that vibrate intensely, creating blocks of color.
The reinforcement fabric and the wallpaper is a classic "wall duo". Further on a molding process has been developed to a stand alone version of these two materials. The rubber granulate is treated as a mosaic piece and has become a flexible ornament.
It is important for Kueng Caputo to show the "behind the scenes" of the craft, and the heritage of knowledge of craftsmen and craftswomen, which they find important to cultivate. If forgotten, we loose passed down experiences and society can only innovate if based on knowledge. Thus they want to express their respect to all craftsman and woman, who take the time to learn a technique profoundly, in spite of the easy solutions on offer .
Kueng Caputo is a Zurich, Switzerland based design practice comprised of Lovis Caputo and Sarah Kueng. Their material adventures are often rooted in the complexities of crafts techniques, which are reconfigured to explore new dynamics between the minimal, the exuberant and the unexpected.
What has emerged is a lively, highly unique, sometimes whimsical, design lexicon, rooted in minimalist forms but elaborated in complex materials or fabrications, where a handmade quality is inherent.
Kueng Caputo has previously exhibited at the Frieze Art Fair, New York; Design Miami, Miami; Dutch Design Week, Eindhoven; Milan Design Week, Milan and the Museo de Arte Moderno, Mexico City and most recently the build a school in Winterthur, Switzerland opening summer ´23.
´Bricks is Kueng Caputo´s third solo exhibition at Etage Projects